Last updated on September 13th, 2022 at 10:36 pm
Spinach is one of the healthiest vegetables around. Those wrinkled, curly leaves are packed with vitamins and minerals, like Vitamins A, C, and K, and iron, potassium, and folate. They're also rich in fiber and oxalate. 
Overall, this makes spinach an excellent option for those looking to enjoy a healthy salad. And if you're expecting your salad to be boring, think again! There's just so much you can do to make your bowl interesting and fun. 
You can mix up your spinach with different ingredients to create many delicious recipes, many of which are included in this list. Before we dive into these healthy spinach salad recipes, let's take a closer look at the health benefits of spinach. As well as and why eating recipes with spinach is a great ingredient to include on your weight loss journey. 
The Health Benefits of Spinach
Nutrient-rich
According to Healthline, Spinach is rich in fiber, proteins, carbohydrates, Vitamin K, Vitamin C, and Vitamin A and is low on calories. Vitamin K is good for the bones, while Vitamin A and C boost the immune system and promote healthy skin. Spinach also contains folate, a B vitamin that helps with the formation of red blood cells and DNA. 
There is also iron, magnesium, potassium, and calcium. 
Good for brain health
The naturally occurring compounds in spinach do a good job as anti-inflammatory agents. This in turn benefits your brain health especially if you're aging. One study found that older adults who consumed large amounts of green leafy vegetables suffered a slower rate of cognitive decline than those who didn't. 
High in antioxidants
Spinach is rich in antioxidants, which prevent inflammation and help protect you against diseases like cancer, heart disease, and type 2 diabetes. (Source)
It may help with blood pressure
Spinach contains nitrates, which when consumed, open up blood vessels. This improves blood flow and reduces the workload on the heart. (Source)
Other benefits
Spinach has several natural occurring phytochemicals and bioactive compounds that can reduce DNA damage and disease and oxidative pressure. These compounds also positively influence genes involved in metabolism and inflammation and trigger the release of satiety hormones, making you feel more satisfied. (Source)
Healthy Spinach Salad Recipes
The good thing about spinach salads, is they don't have to be complicated. They can be easy to prepare yet sweet, like this easy spinach salad. Prepared from baby spinach, grape tomatoes, and a couple of other ingredients, this spinach salad requires very little prep time and will make a pretty good addition to your healthy dinner ideas.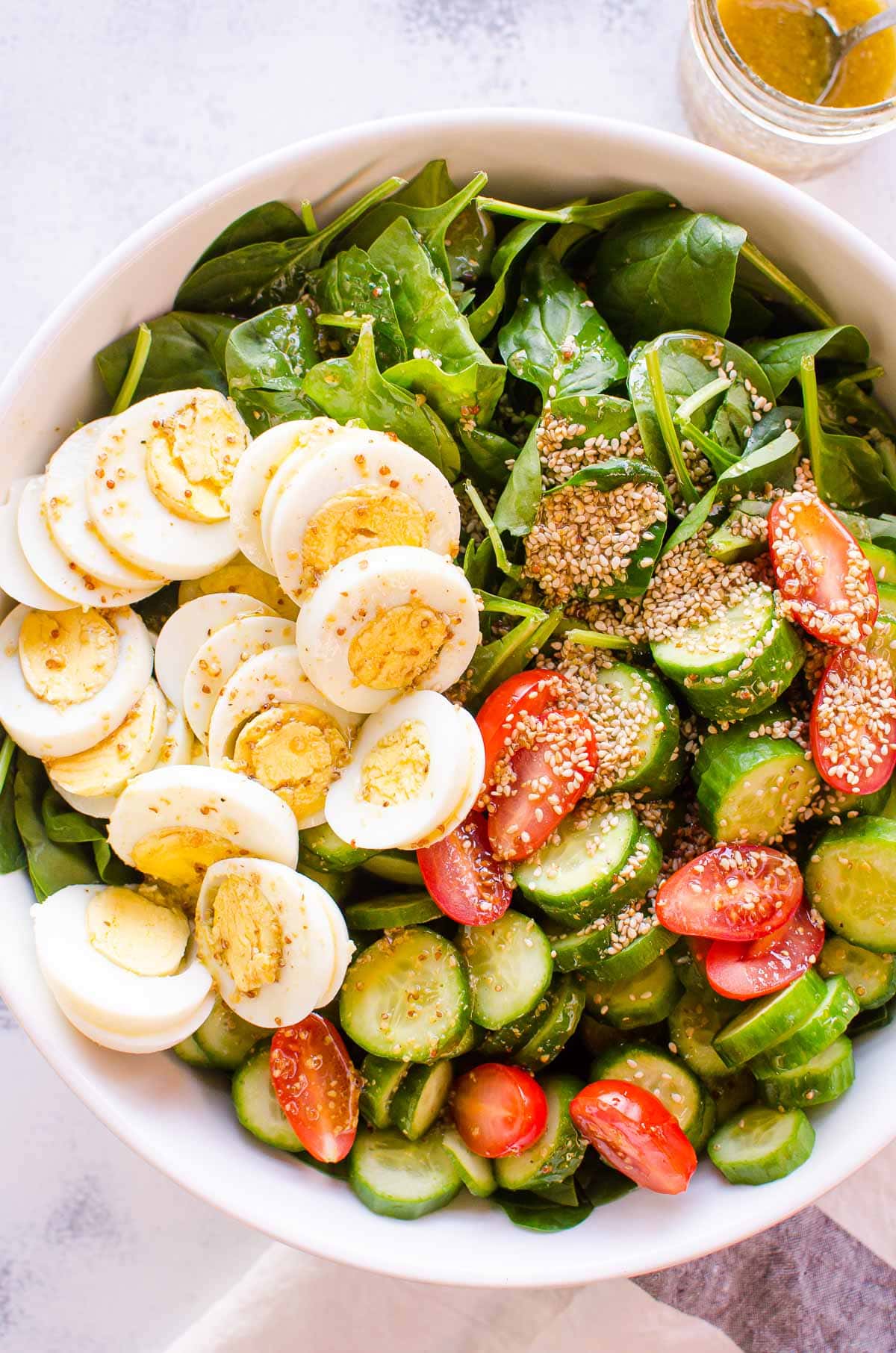 Ingredients
11 oz box of organic baby spinach pre-washed
4 hard boiled eggs sliced
1 cup grape tomatoes cut in halves
1 long English cucumber sliced
2 cups mushrooms sliced
2 tbsp sesame seeds toasted
Healthy Spinach Salad Dressing
1/3 cup olive oil extra virgin
3 tbsp apple cider vinegar
2 tbsp Dijon mustard
2 tbsp soy sauce
Directions
Add spinach, eggs, tomatoes, cucumber, mushrooms and sesame seeds to large bowl.
Add olive oil, apple cider vinegar, Dijon mustard and soy sauce. Screw on lid tight and Shake until well mixed.
Pour dressing over salad before serving and toss gently. Serve immediately.
Tips
Make Ahead: Refrigerate salad ingredients separately from the dressing covered with plastic for up to 2 days.
Dressing in a jar can be refrigerated for up to 2 weeks. Place in a bowl with hot water for 10 minutes to warm up, then shake.
The Apple Feta Spinach Salad is another easy-to-make recipe. It's sweet and crunchy thanks to the flavorful combination of baby spinach, apples, feta cheese, honey mustard dressing, and almonds among other ingredients.  
Ingredients
3 – 4 cups baby spinach, rinsed
1 Gala apple, diced
1/2 cup dried cranberries
3 tablespoons chopped almonds
1/2 cup feta cheese, crumbled
1/4 cup olive oil
1 tablespoon honey
1/4 cup apple cider vinegar
2 teaspoons mustard (Dijon or whole-grain)
Directions
Prepare the honey-apple cider dressing by whisking olive oil, honey, apple cider vinegar, and mustard together in a small jar until combined.
Adjust seasoning with salt and pepper, if necessary.
Toss all the spinach salad ingredients together in a large bowl or directly in serving plates.
Drizzle with the dressing and serve the apple feta spinach salad immediately.
It might not have as interesting a name as other recipes on this list, but it's just as delicious. In fact, it might be the ultimate spinach salad, since it takes a little bit of all the favorite things to pair with spinach and puts them into a single bowl. These include crisp apple, red onion, toasted almonds, and briny feta.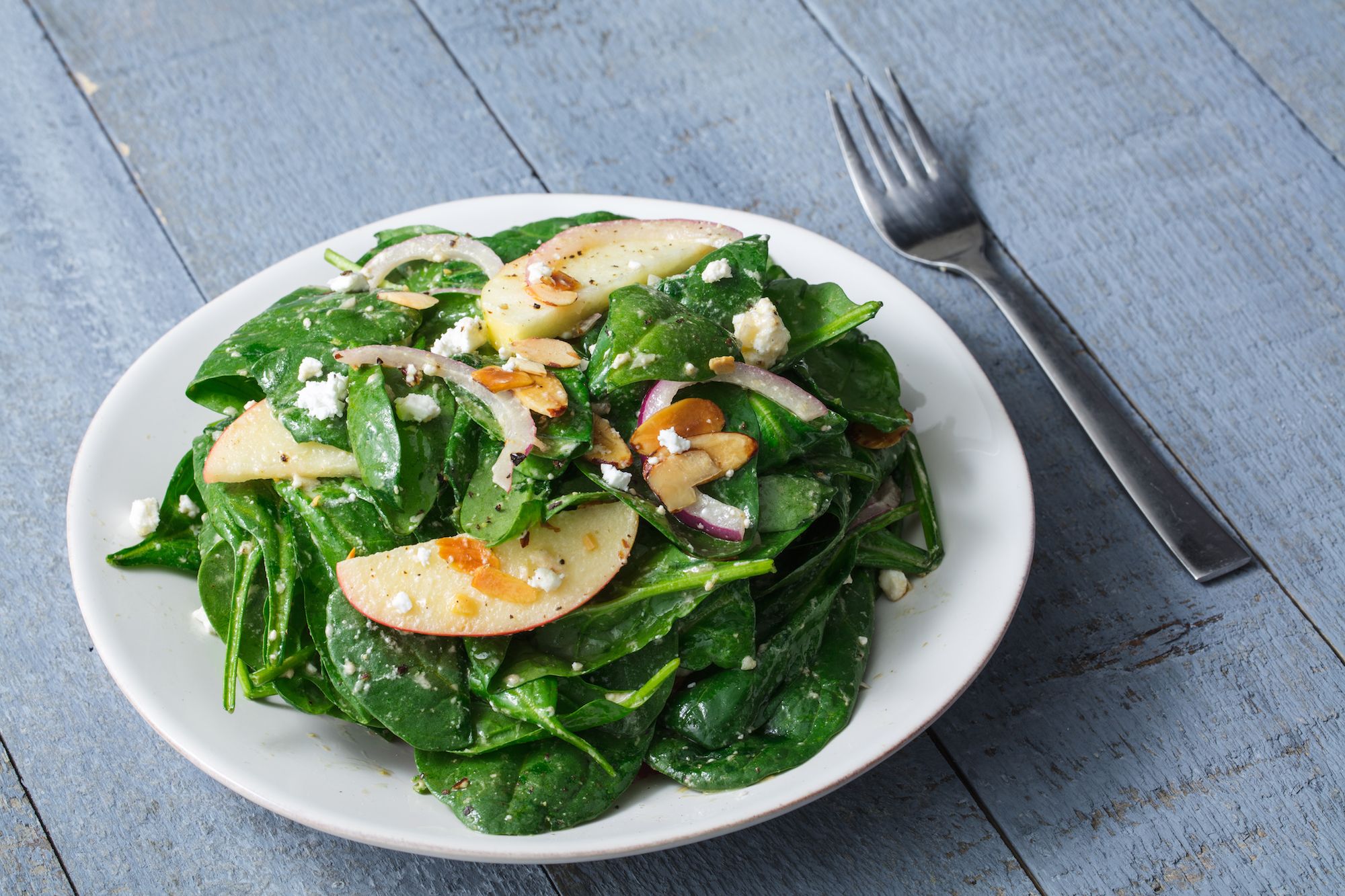 Ingredients
5 oz. fresh spinach
1 apple, such as Honeycrisp, thinly sliced
1/3 c. crumbled feta
1/4 red onion, thinly sliced
1/4 c. sliced almonds, toasted
FOR DRESSING
1/3 c. olive oil
3 tbsp. red wine vinegar
1 clove garlic or 1/2 shallot, minced
2 tsp. dijon mustard
Kosher salt
Freshly ground black pepper
Directions
Whisk together all dressing ingredients until completely incorporated. Season with salt and pepper.
Combine all salad ingredients in a large bowl.
Add dressing, toss to combine, and serve immediately.
This one's a simple spinach salad that can pair with just about any main dish, like chicken, tofu, sausages, and even other veggies. It's sweet, easy to prepare, and you can serve it to your guests.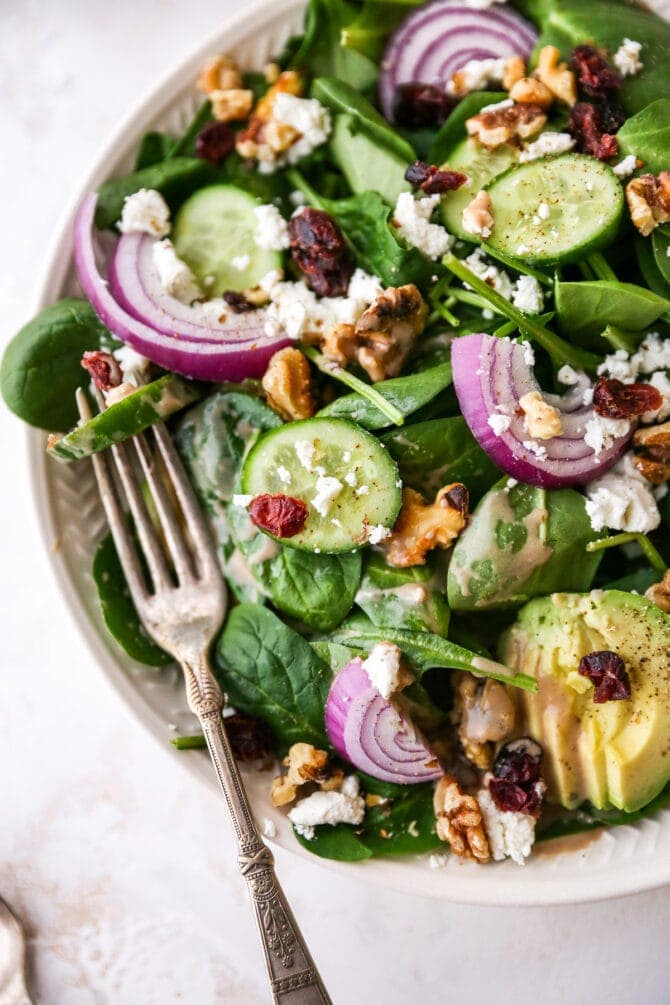 Ingredients
10 oz baby spinach
1 cup sliced mini cucumbers
⅔ cup crumbled goat cheese
½ cup sliced red onions
½ cup dried cranberries
½ cup raw walnuts
1 avocado, sliced
fresh cracked pepper, for serving
Creamy Balsamic Dressing
¼ cup balsamic vinegar
¼ cup olive oil
¼ cup full fat Greek yogurt
1 teaspoon dijon mustard
1 teaspoon honey
½ teaspoon garlic powder
½ teaspoon salt
½ teaspoon pepper
Directions
Toast Walnuts
Add walnuts to a small skillet over medium heat to toast. Let cook, tossing frequently for 3-5 minutes until fragrant and starting to brown.
Remove from pan and let cool.
Make dressing
Prepare dressing by whisking together all ingredients in a small bowl until fully combined and creamy.
Tip: You can also blend everything together in a blender or with an immersion blender.
Prep salad
Prepare salad by adding spinach to a large bowl, top with cucumbers, goat cheese, onions, cranberries, toasted walnuts and sliced avocado.
Top with fresh cracked pepper.
To Serve
Drizzle dressing over salad, toss and serve.
This delicious spinach recipe will only take a few minutes of your time to whoop up since it doesn't require lots of ingredients. It's perfect for those who want to keep their salad simple and healthy. 
Ingredients
2 tbsp extra-virgin olive oil
squeeze lemon juice
1 large bunch watercress , stalks trimmed
100g bag baby spinach leaves, washed
1 small red onion , finely sliced
Directions
Whisk together oil and lemon juice, then season.
In a bowl, mix the leaves and onion. Drizzle dressing over and toss to combine.
The spinach and halloumi salad only needs four ingredients: cheese, oranges, mint leaves, and spinach, making it the easiest of salad recipes. That doesn't mean you should underestimate its ability to excite your taste buds; it's quite tasty. You can use it as a starter or light main dish.   
Ingredients
250g halloumi cheese
200g bag spinach
2 large oranges
1 bunch mint , leaves only
Directions
Slice the halloumi and griddle for 3-4 mins each side until charred, then set aside.
Tip the spinach and half the mint onto a large platter.
Segment the oranges and pour any orange juice from the chopping board into a bowl, and squeeze the pith to get juices from there too.
Scatter the orange pieces over the spinach.
Chop the remaining mint and mix with the orange juice, 2 tbsp olive oil and some seasoning.
Place the halloumi slices on top of the salad and pour the dressing over. Serve with warm flatbreads.
Here's a salad that looks good and tastes just as good if not better. It's also very nutritious. Prepared with baby spinach, smoked bacon, eggs, olive oil, and a couple of other ingredients, the salad will take you around 10 minutes to prepare and 20 to cook. 
Ingredients
3 tbsp olive oil
1 garlic clove , peeled but left whole
8 rashers smoked back bacon , chopped into large pieces
1 small baguette loaf (about 125g), cut into bite sized pieces
4 eggs
200g pack fine French bean , trimmed
140g mild blue cheese , crumbled into chunks
200g bag baby spinach , washed if necessary
For the dressing
2 tsp Dijon mustard
2 tbsp red wine vinegar
6 tbsp extra-virgin olive oil
Directions
For the dressing, whisk the mustard and vinegar together with some salt and pepper and 1 tbsp of water.
Whisk in the extra virgin olive oil and set aside.
Heat the olive oil in a large frying pan over a lowish heat and add the garlic and the bacon.
Cook the bacon slowly until starting to sizzle, then add the bread to the pan and toss in the bacon juices. Fry everything together slowly (this can take a good 15 mins) until the bacon is ultra-crisp and the croûtons are crunchy, drizzling the pan with a little more oil if it becomes dry.
Once cooked, fish out the garlic clove and set the pan aside.
While the bacon is cooking, tip the eggs into a pan of boiling water and boil for exactly 7½ mins.
Cool in cold water, then peel and set aside.
Cook the beans in a pan of heavily salted boiling water for 5 mins or until slightly crunchy but still bright green.
Drain, tip into a pan of ice-cold water, then drain again and set aside.
To serve, tip everything except for the eggs and dressing into a large bowl.
Drizzle over the dressing and toss gently with your hands. Scatter the salad over a serving platter, halve the eggs and strew over the salad, seasoning the yolks with sea salt flakes and a grind of black pepper.
The super simple spinach salad is another easy-to-make salad that takes only a couple of minutes to prepare. It consists of baby spinach and a dressing of clove, vinegar, black pepper, and extra-virgin olive oil. In this recipe, the dressing is what really brings out the taste of the salad. 
Ingredients
5-6 cups fresh baby spinach
1/2 clove minced garlic
1 overflowing tablespoon balsamic vinegar
1 1/2 tablespoons extra-virgin olive oil
pinch of sea salt and freshly cracked black pepper
Directions
Crush the garlic
Whisk garlic, vinegar, olive oil and cracked black pepper in a mixing bowl.
Add spinach leaves to a big salad bowl
Add toppings – see topping ideas below;
Topping Ideas
Feta cheese, olives and cherry tomatoes
Shaved Parmesan cheese, pecans and diced strawberries
Crumbled blue cheese, chopped walnuts and diced apple
Peaches, pecans and goat cheese
Strawberries, pistachios and mozzarella cheese
Blueberries, pecans and feta cheese
Dried cranberries, walnuts and goat cheese
This healthy spinach recipe is made with a delicious combination of toasted crumbled walnuts, onions, tangy goat cheese, apples, baby spinach, cranberries, and apple cider vinaigrette. You can also play around with the ingredients to come up with your own iteration of this classic apple spinach salad.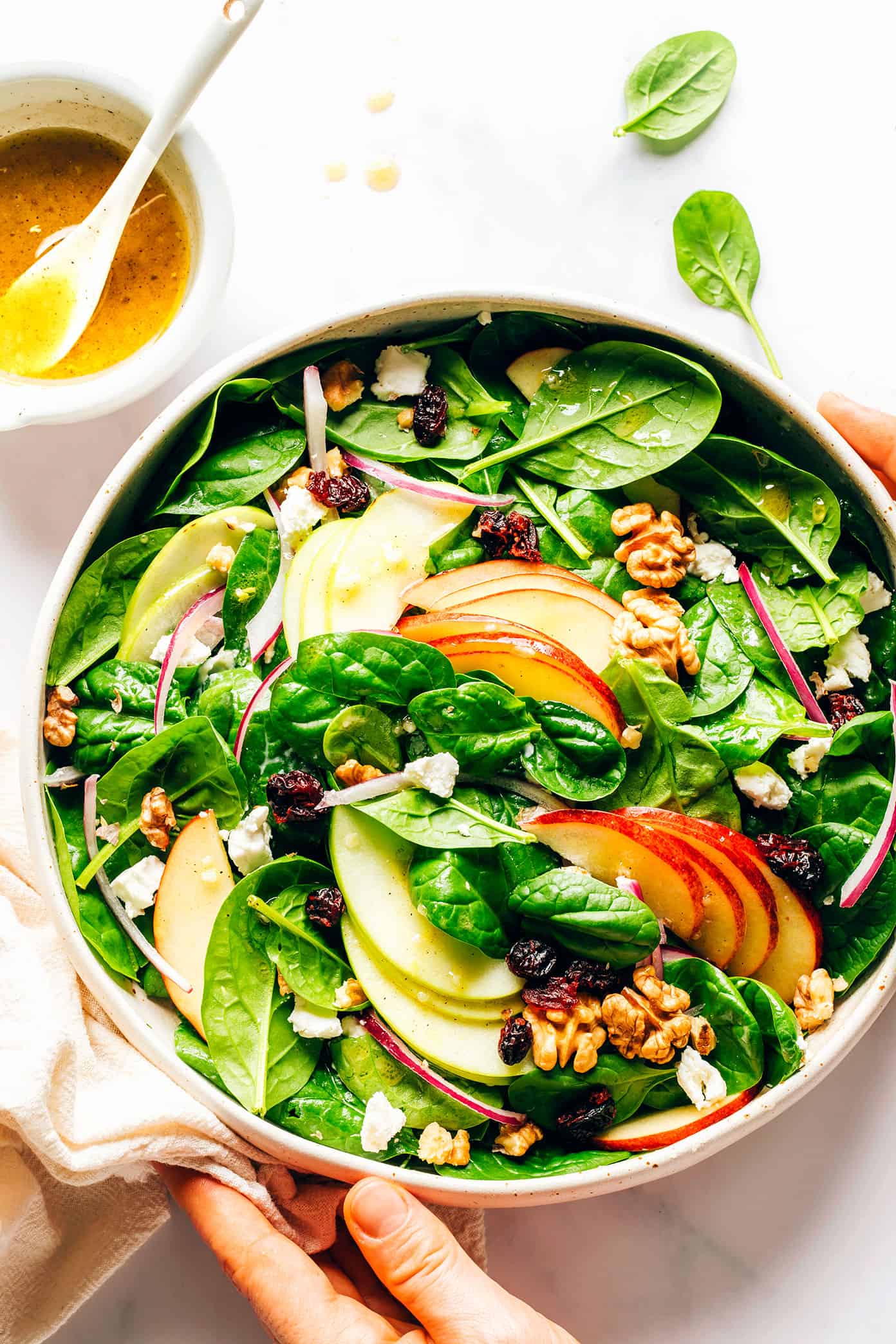 Ingredients
5 ounces fresh baby spinach
2 small apples, cored and thinly sliced
half of a small red onion, thinly sliced
1/2 cup chopped walnuts, toasted
1/3 cup dried cranberries
3 ounces crumbled goat cheese
APPLE CIDER VINAIGRETTE INGREDIENTS:
1/4 cup extra virgin olive oil
2 tablespoons apple cider vinegar
2 teaspoons honey
1 teaspoon Dijon mustard
1 small garlic clove, peeled and minced
a generous pinch of salt and black pepper
Directions
Make the vinaigrette.
Combine all of the vinaigrette ingredients together in a bowl and whisk vigorously (or shake them together in a mason jar) to combine.
Toss the salad.
Add spinach, apples, red onion, walnuts, dried cranberries, and half of the goat cheese to a large bowl. Drizzle with the vinaigrette, and toss to combine.
Serve.
Serve immediately, garnished with the remaining goat cheese, and enjoy!
This cranberry spinach salad will take you only 5 minutes to prepare. The simple yet nutritious salad is perfect for any occasion made from baby spinach, cranberries, vinaigrette, walnuts, and Romano cheese. 
Ingredients
1 (6 ounce) package fresh spinach
⅓ cup dried cranberries
⅓ cup chopped walnuts
⅓ cup raspberry walnut vinaigrette
1 tablespoon finely shredded Romano cheese
Directions
Combine the spinach, cranberries, walnuts, vinaigrette, and Romano cheese in a large bowl
Toss until spinach is evenly coated. Serve immediately.
The warm spinach salad takes a little longer to make- 10 minutes of prep time and 25 minutes of cook time- but it's worth the time. Combining mushrooms, sesame oil, sesame seeds and spinach into one nutritious bowl, the salad is best served on slices of croutes or toasted bread.  
Ingredients
250 Gram Mushrooms
sliced2 tsp Garlic paste
4 tbsp Sesame oil
1/2 kg Spinach leaves, shredded
4 tbsp Lemon juice
2 tsp Soya sauce
1 tsp Sugar
2 tbsp Sesame seeds (toasted)
2 tbsp Cheese, grated
8 Croutes or slices of toasted bread
Directions
Saute mushrooms in hot oil for 1 minute.
Remove from pan.
If using garlic cloves then, add garlic to the pan and cook golden.
Heat the oil and fry spinach leaves for 1 minute.
Stir in the mushrooms, garlic, lemon juice, soy sauce, sugar and sesame seeds.
Heat through until just warm.
Season and serve on croutes.
Garnish with cheese.
Are you concerned about your calorie count? Well, this recipe gives you a huge portion of vegan, gluten-free salad with just 157 calories. If you're not so keen on the vegan part, you have the option to add proteins, like shredded chicken, tofu, eggs, or cheese. Depending on what you choose, this low-calorie apple spinach salad makes a great side dish or main course. 
Ingredients
1 ½ tablespoon white wine vinegar
1 teaspoon raspberry jam or strawberry
½ teaspoon Dijon mustard
1/4 teaspoon salt
1/8 teaspoon pepper
2 teaspoons olive oil
Spinach Apple Salad:
4 cups baby spinach
1 apple finely sliced
2 tablespoons dried cranberries
2 tablespoons chopped walnuts
Optional Protein Add Ins:
Shredded Chicken
Baked Tofu
Hard Boiled Eggs
Crumbled Goat Cheese
Directions
In a small bowl, or a mason jar, add the spinach salad dressing ingredients.
Whisk together, or tightly seal the jar and shake well.
To each plate add 1/2 the spinach, 1/2 the apples, 1 tablespoon cranberries and 1 tablespoon walnuts.
Drizzle the raspberry vinaigrette over the salad and serve cold.
This spinach salad is as delicious as it gets. It combines fresh spinach with ingredients like apples, walnuts, mustard, onion, and bacon (optional) to give you a delicious flavor. You can take it as lunch, a light dinner, or a side dish.
Ingredients
1 (10- to- 12 ounce) bag fresh spinach
1/2 cup granulated sugar
1/2 cup apple cider vinegar
2 teaspoons grated sweet onion
1/2 teaspoon dry mustard
1/2 teaspoon salt
1/4 cup vegetable oil
3/4 cup finely chopped apple
Crumbled cooked bacon, optional, for garnish
Walnut or pecan halves, optional, for garnish
Directions
Gather the ingredients.
Wash spinach and let dry.
In a bowl whisk together the sugar, vinegar, grated onion, mustard, salt, and vegetable oil.
Add the apple.
Refrigerate spinach and dressing separately until serving time.
Pour dressing over spinach just before serving and toss. If desired, sprinkle with crumbled bacon and nuts.
Serve and enjoy.
Not many ingredients go as well with spinach as strawberry. Add lemon juice, honey, cinnamon, and a bit of mustard as the dressing, and you get one of the most delicious spinach salads there is. This healthy spinach salad will take you only 15 minutes to prepare.  
Ingredients
2 tablespoons honey
1 dash cinnamon
3 tablespoons lemon juice
1 teaspoon Dijon mustard
1/8 teaspoon salt
8 cups baby spinach leaves
2 cups sliced strawberries
Directions
Gather the ingredients.
In a small clean jar with a tight-fitting lid, combine the oil, honey, cinnamon, lemon juice, mustard, and salt and shake well.
Cover and refrigerate the dressing until serving time.
Combine the spinach and strawberries in a large serving bowl and toss gently to mix.
Just before serving, drizzle the salad with the dressing (shake it or whisk it again first to blend) and toss gently to coat.
Serve immediately. Enjoy!
Here's another recipe that combines the fruity fresh flavor of strawberry with baby spinach to give you a delightful salad bowl. There are also pecans, which give the salad some crunch and a little extra flavor if toasted.   
Ingredients
For the Salad
8 ounces fresh torn spinach (or baby spinach)
1 1/2 to 2 cups strawberries (cleaned and sliced)
1/2 cup pecan halves or pieces (lightly toasted)
Optional: 2 to 3 ounces crumbled goat cheese (or blue cheese)
For the Balsamic Dressing
2 tablespoons balsamic vinegar
1 tablespoon plus 1 teaspoon granulated sugar
1/4 teaspoon dried tarragon
1/8 teaspoon onion powder
1/8 teaspoon garlic powder
Dash of dry mustard
1/4 cup extra virgin olive oil (or walnut oil or another vegetable oil)
Directions
Toss the spinach with the sliced strawberries, pecans, and cheese, if using. Cover and refrigerate until serving time.
Put the balsamic vinegar, sugar, tarragon, onion and garlic powder, and mustard in a blender. With the blender running, add the vegetable oil in a slow, steady stream. Alternatively, put the dressing ingredients in a jar, cover with a lid, and shake to blend. Taste and adjust seasonings.
When ready to serve, drizzle dressing over the salad and toss lightly.
This salad is a delicious combination of beets, spinach, bacon, pecans, and walnuts. The beets can be boiled, or roasted, it's all up to you. You can also add some shredded or crumbled cheese to your salad. 
Overall, this salad may not be the best option if you're looking to whoop up something quick and easy; it can take you well over 2 hours to prepare. However, if you have the time to, it's a healthy, delicious option to have at the table. 
Ingredients
For the Salad
Pecan halves, or walnuts, toasted, optional
2 to 3 slices bacon, diced, or 3 ounces diced pancetta
1 pound beets, cooked, peeled, and diced
4 cups spinach
1/4 cup red onion, thinly sliced
Shredded cheese, or crumbled goat cheese or feta, optional
For the Dressing
1 clove garlic, crushed and minced
1/2 teaspoon salt
1/8 teaspoon freshly ground black pepper
1 tablespoon Dijon mustard, or a similar gourmet mustard
4 tablespoons honey
1/3 cup balsamic vinegar
2/3 cup olive oil
Directions
Gather the ingredients.
Arrange the pecans or walnuts in a dry skillet and place over medium heat. Cook, stirring constantly until the nuts are lightly browned and aromatic.
In a skillet over medium heat, fry the diced bacon until crisp or fry the pancetta until browned.
Transfer to paper towels to drain.
Beet Salad recipe
Dice the bacon and set aside.
Arrange spinach leaves on 4 salad plates. Top with diced beets, diced bacon or pancetta, red onion, and pecans or walnuts. If desired, top with cheese.
In a bowl or blender, combine the garlic, salt, pepper, mustard, honey, and balsamic vinegar. Whisk or blend in the olive oil in a steady stream.
Drizzle the dressing over the salad or serve on the side.
The previous recipe takes quite some time to prepare. This salad, on the other hand, will take you just over 20 minutes to convert from ingredients to a hearty bowl of greens. And with a vinaigrette dressing of chickpeas, za'atar, and tahini, you'll enjoy a great nutty flavor with a Middle Eastern profile.  
Ingredients
For Salad
1/2 pound dry pasta, any shape
1 cup chickpeas, rinsed and drained
1 1/2 cups baby spinach leaves
For the Dressing
2 tablespoons finely chopped garlic scapes, or 1 clove garlic, peeled and finely minced
3 tablespoons olive oil
1 tablespoon fresh lemon juice
1 tablespoon tahini
3 to 4 tablespoons water
Pinch red pepper flakes, to taste
1/4 teaspoon dried oregano
1/4 teaspoon freshly ground black pepper
Kosher salt, to taste
Directions
Gather the ingredients.
Add pasta to a large pot of boiling salted water and cook according to package directions. Drain cooked pasta and return to pot. Stir in rinsed and drained chickpeas as well as baby spinach leaves. The residual heat of the pasta will cook spinach down a bit.
Make dressing by whisking together chopped garlic scapes or minced garlic, olive oil, fresh lemon juice, sesame paste, water, red pepper flakes, dried oregano, ground black pepper, and salt.
Toss pasta, spinach, and chickpeas with dressing and serve at room temperature.
This is another salad recipe that will take you around 20 minutes to prepare and serve. It's made using spinach, chicken, and pasta, and dressed with lemon juice and mayonnaise. It's very flavorful and can be taken as a main dish salad.
Ingredients
8 ounces pasta (fusilli, rotini, etc.)
1 1/2 to 2 cups spinach leaves
1/2 red bell pepper
12 grape tomatoes (or cherry tomatoes, halved)
1/4 cup diced red onion
1 medium clove garlic (finely minced)
2 cups chopped chicken (cooked or canned)
1 to 1 1/2 cups mayonnaise
1 tablespoon white wine vinegar
2 tablespoons lemon juice
1 teaspoon Dijon or a favorite gourmet mustard
1/8 teaspoon ground black pepper
1/2 teaspoon dried leaf basil
salt (to taste)
Directions
Gather the ingredients.
Cook the pasta in boiling salted water following the package directions; drain and rinse well. Set aside to cool.
Meanwhile, chop the spinach leaves coarsely and diced the red bell pepper half.
Toss the cooled and drained pasta with the spinach, red bell pepper, tomato halves, onion, garlic, and chicken.
Combine 1 cup of the mayonnaise with wine vinegar, lemon juice, mustard, pepper, and basil.
Toss the dressing mixture with the pasta mixture. Add more mayonnaise, if needed. Taste and add salt, as needed. Refrigerate for at least 2 hours before serving time for best flavor.
Chickpeas, which is rich in fiber and protein, combine really well with spinach to give you a very nutritious bowl of salad. Other ingredients like raisins, cheese, honey, and olive oil do well to give this salad a sweet flavor. 
Ingredients
1 can chickpeas (drained and rinsed)(1 can = 435g)
1 handful spinach
3.5 oz low fat feta cheese (use regular if you prefer)(3.5oz = 100g)
1 small handful raisins
1 tbsp lemon juice (white or malt vinegar is also good)
3 tsp honey
3 tbsp olive oil
½ – 1 tsp cumin, ground
1 pinch salt
½ tsp chili flakes (or dried cayenne pepper will do the trick nicely)
Directions
Chop the cheese and add with the spinach and chickpeas to a large bowl.
1 handful spinach,3.5 oz low fat feta cheese,1 can chickpeas
Mix the honey, oil, lemon juice and raisins in a small bowl.
1 tbsp lemon juice,3 tsp honey,3 tbsp olive oil,1 small handful raisins
Add the cumin, salt and pepper to the dressing bowl and mix well.
½ – 1 tsp cumin, ground,1 pinch salt,½ tsp chili flakes
Drizzle devilishly delicious dressing over the salad.
Enjoy
Here's another easy-to-make salad dressing that is perfect for spinach salads. It's made using common ingredients, oil, vinegar, honey, and mustard, and can be stored for up to 3 days in the fridge.  
Ingredients
⅓ cup vegetable oil
2 tablespoons red wine vinegar
2 teaspoons dijon mustard
1 ½ teaspoons honey
1 clove garlic minced
¼ teaspoon black pepper
⅛ teaspoon salt or to taste
salad
8 cups spinach
2 hard boiled eggs sliced
8 slices bacon cooked and crumbled
3 green onions sliced
2-3 fresh mushrooms sliced
¼ cup feta cheese optional
Directions
Combine dressing ingredients in a small jar with a lid. Shake well to combine and refrigerate at least 1 hour.
Toss dressing with spinach just before serving.
Add remaining ingredients on top of salad. Serve immediately.
This healthy spinach salad combines baby spinach and other veggies, like cucumber, red pepper, carrot, and fennel. There will also be some walnuts, sunflower seeds, and a flavorful dressing of vinegar, mayonnaise, honey, lemon juice, and olive oil.  
Ingredients
2 cups baby spinach, washed and dried
½ of an English cucumber, halved and sliced
½ cup red pepper, julienned
1 carrot, julienned
½ head of fennel, julienned
1 1 mango, sliced
¼ cup raw sunflower seeds
¼ cup raw pumpkin seeds
¼ cup chopped walnuts
1 hard-boiled egg, chopped
1 tablespoon chopped chives
1 tablespoon chopped dill
For the Dressing:
1 tablespoon mayonnaise
2 tablespoons lemon juice
3 tablespoons extra virgin olive oil
1 tablespoon honey
1/8 teaspoon paprika (optional)
For the vegetable pickling broth:
1 cup ice water
¼ cup seasoned rice wine vinegar
salt and pepper to taste
Directions
Whisk dressing ingredients together in a small bowl and set aside.
To create the vegetable pickling broth, combine water and rice wine vinegar in a small bowl.
Prepare carrot and fennel into matchstick or julienne-sized pieces and drop into pickling broth, allowing them to soak up liquid for about 15 minutes.
Drain liquid and pat dry before use.
Prepare spinach, red pepper, cucumber, mango, egg and herbs. Set aside.
Place all of the salad ingredients into a large bowl, add dressing and toss. Transfer to bowls or plates and season with kosher salt and fresh ground black pepper.
Serve immediately.
Layered spinach salad is a simple yet delicious recipe. It's not fancy by any means and will take you around 10 minutes to prepare. 
Ingredients
For the dressing
¼ cup low fat sour cream
¼ cup mayonnaise
1 garlic clove, finely minced
2 tablespoons honey
juice of half a lemon
1 tablespoon poppy seeds
kosher salt to taste
2% milk, enough to thin out the dressing
For the salad
2 cups baby spinach leaves, washed and dried
1 cup microgreens
1 cup cherry tomatoes, halved
2 extra-large eggs, hardboiled and sliced
4 bacon rashers, cooked and chopped
Directions
Prepare the dressing
Place the sour cream, mayonnaise, garlic, honey, lemon juice and poppy seeds into a small bowl and whisk together until smooth.
Adjust flavour with salt.
Adjust thickness by adding milk, about 1 tablespoon at a time. Transfer dressing into a squeeze bottle for ease of application.
Prepare salad
Begin layering salad ingredients into a plate or flat-bottomed bowl starting with the spinach.
Add a small handful of microgreens, a few cherry tomato halves, some egg and a sprinkle of bacon.
Drizzle with a tiny bit of the dressing. Repeat process two additional times.
Garnish the salad with a bit of black pepper if you wish and serve immediately.
Present additional dressing on the side, if desired.
This salad is very easy to prepare. It will take you around 10 minutes to combine baby spinach leaves with some red chili, courgettes, and olive oil in one delicious bowl of salad.    
Ingredients
1 tbsp olive oil
4 courgettes
1 red chilli
100g bag baby spinach
Zest 1 lemon
Directions
Heat 1 tbsp oil in a frying pan.
Fry the courgettes over a high heat until just tender, about 4 mins, adding the chilli for the final min.
Take off the heat and toss though the spinach until just wilted.
Add the lemon zest and season to taste.
Put in a serving dish and pour over a little more olive oil just before serving.
Last but not least is a fresh and simple spinach salad. Made with fresh spinach leaves, apples, avocado, feta cheese, and red onions and mixed with homemade balsamic dressing, this amazing bowl of goodies goes really well with any meal.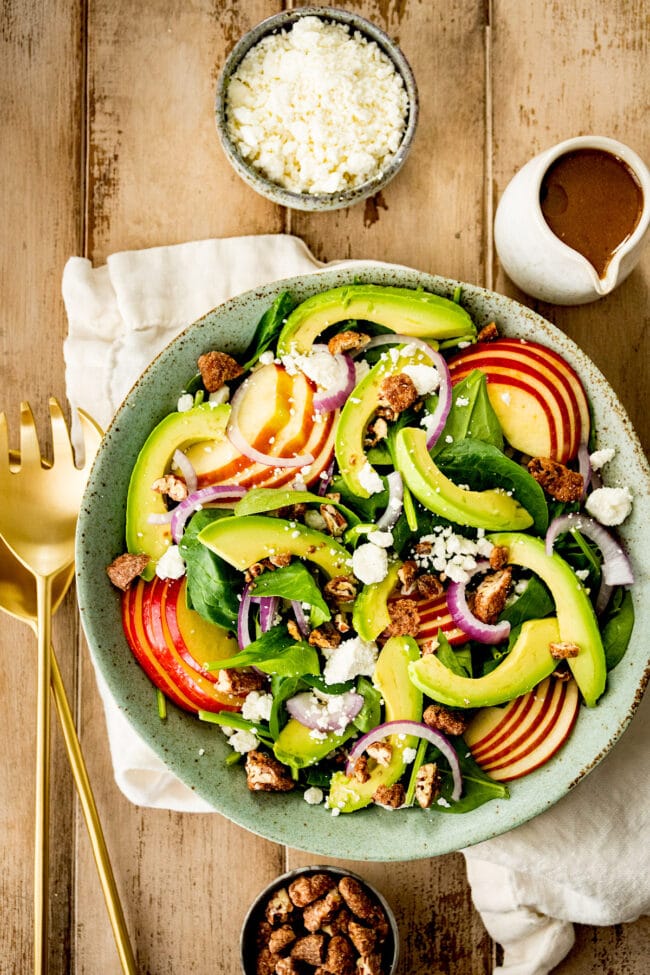 Ingredients
For the dressing
1/4 cup olive oil
2 tablespoons balsamic vinegar
1 tablespoon pure maple syrup
1 teaspoon Dijon mustard
1 clove garlic, minced
Dash of salt and ground black pepper
For the salad
10 ounces fresh spinach
2 large Honey crisp apples, cored and thinly sliced
1 large avocado, sliced
1/4 red onion thinly sliced
1 cup roughly chopped candied pecans or pecans, can use walnuts or almonds
3/4 cup crumbled feta cheese or goat cheese
Directions
To make the dressing, in a small bowl, whisk together the olive oil, balsamic vinegar, maple syrup, mustard, garlic, salt, and pepper.
Set aside.
To assemble the salad, place the spinach, apple slices, avocado, red onion, pecans, and cheese in a large bowl.
When ready to serve, drizzle with dressing and toss. Alternatively, you can plate the salads and serve the dressing on the side.
Bonus
mustard, and black pepper, and goes really well with spinach salads. The salad dressing can make or break your spinach salad. So with this recipe, we'll do something different and introduce a salad dressing. This particular one is made with olive oil, red wine vinegar and honey.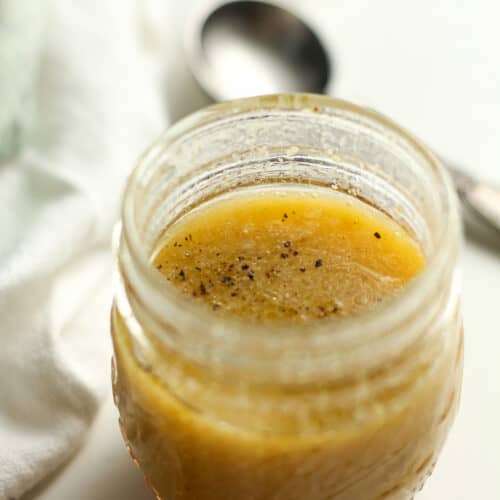 Ingredients
6 Tablespoons olive oil
3 Tablespoons red wine vinegar
1 ½ Tablespoons honey
1 Tablespoon dijon mustard
kosher salt and freshly ground black pepper – to taste
Directions
Combine all ingredients in a mason jar, and shake vigorously.
Drizzle on your favorite spinach salad.
Spinach Salad FAQs
Is spinach salad good for you?
Spinach salad is a good source of nutrients, including iron, calcium, and vitamins A and C. It is also low in calories and fat.
Can You Prep Spinach Salad Ahead of Time?
Yes, you can prep spinach salad ahead of time. Just keep in mind that the longer it sits, the more wilted the spinach will become.
How long to store the spinach salad?
Spinach salad can be stored in the fridge for up to three days.
Can you eat a spinach salad for breakfast?
Yes, you can eat a spinach salad for breakfast. This is a healthy option that will give you the nutrients you need to start your day. The salad will also fill you up so you won't be hungry until lunchtime.
Enjoy Your Bowl
Spinach is one of the best options when it comes to a healthy salad, You can also combine it with other ingredients and add a dressing to make a colorful, flavorful bowl. Which of these healthy spinach salad recipes are you looking forward the most to trying?
More Healthy Recipes you may like to try;
Spinach Comparisons you may find interesting;
Cooking tips you might find useful;