Replacing traditional spaghetti noodles with a vegetable alternative has been an increasingly popular cooking method over the last few years.
But making spaghetti squash can look daunting if you have never tried it. That's why we put together this list of the best easy spaghetti squash recipes for you to try.
Why Squash makes a Great Alternatives to Traditional Pasta
Choosing a vegetable alternative is also popular amongst those with gluten intolerance as they can still enjoy a delicious pasta dish without compromising their medical needs. 
As pasta is famous for being high in carbs this replacement also works well for those who are on a low-carb diet but still want to enjoy a warm, comforting pasta dish. 
Something as simple as squash can be used to create a spaghetti-like element in your food.
This versatile vegetable has a mild flavor and can be roasted to provide a lovely crunch, perfect to pair with a variety of vegetables, meats and sauces.
Not to mention, using squash is a great way to get some extra nutrients as it is high in Vitamin A. 
Here are our favorite selection of the best easy spaghetti squash recipes: 
Top Tips For Roasting A Squash 
In order to perfect a spaghetti squash recipe, you must first master roasting the squash itself. 
Once you've chopped in half and scooped out the seeds, pour a light drizzle of olive oil over the halves and sprinkle with some sea salt and pepper.
Avoid using too much oil as this can make the squash go soggy. 
Place the squash halves flat side down on a baking tray and pierce a few holes in the skin. Place in the oven at 400℉.
Roast until the squash is browning slightly and tender to touch (with a fork of course). This can take 30 to 40 minutes depending on the size of your squash and the type of oven you have. 
Lastly, use a fork to create strands of fluffy 'spaghetti' and continue to season to your liking.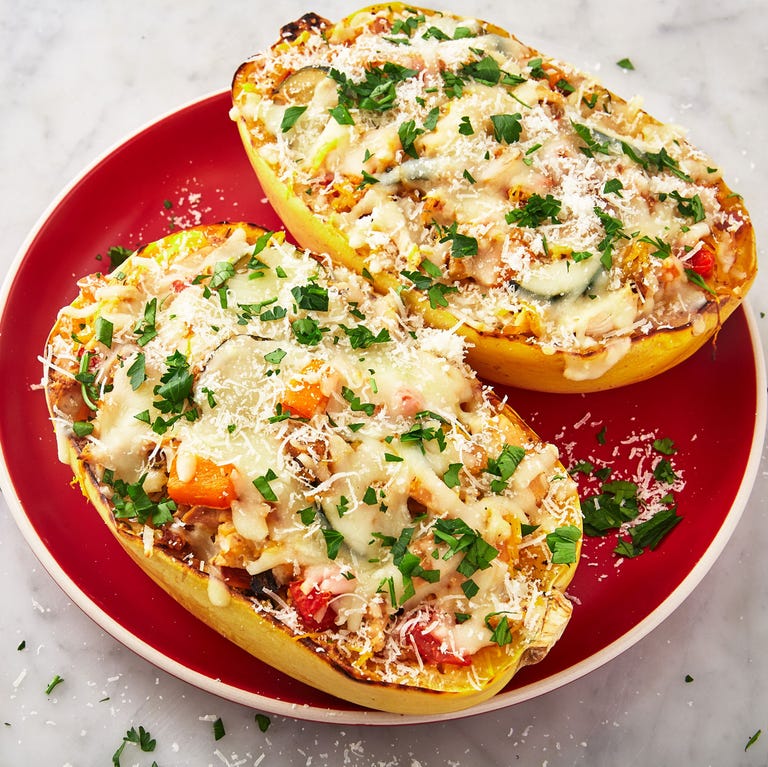 This is a twist on a classic dinnertime pasta dish and a firm family favorite.
Half a squash is recommended to serve one person, so you may need to bear that in mind when picking out your vegetables at the store. A medium-sized squash is recommended to feed two adults. 
The primavera filling is simple to make and can easily be adapted to suit different dietary requirements.
Chicken and cheese can be substituted for vegetarian and vegan replacements making it a great meal to please all the family. 
When creating the spaghetti squash, there is no need to empty out the noodles in order to mix with the filling, simply scrape the vegetable and serve it all straight from the squash 'boat'!
If you want to go a step further and create an even healthier and low-carb dish you can replace the cheese with a low-fat version or just a dash of Parmesan.
If you're looking for a perfect side dish to accompany the main event, this baked squash recipe is just that.
A large squash can serve four as a side, but you can add meat or vegetables to create a more filling pasta bake-style main dish if desired.
A delicious blend of Parmesan, panko breadcrumbs, garlic and thyme are added to spaghetti squash strands and topped with mozzarella to be roasted until golden brown.
For a lower fat version, try without mozzarella. 
As this recipe uses breadcrumbs, it isn't gluten-free but panko is usually vegan so be sure to check the packet.
Panko breadcrumbs are usually found in Asian cooking but can be added to your pasta dish for an extra tasty crunch compared to typical breadcrumbs.
These can be found in most grocery stores, but if you're having trouble finding them try a local Asian supermarket. 
Why not try mixing in some toasted pine nuts and a drizzling of pesto on top of the baked squash for added flavor.
Low-carb or gluten-free diets don't mean you have to ditch your comfort foods for a salad. Making a pasta alternative is easy to do and just as tasty. 
Using turkey mince instead of beef creates an even healthier, lighter version of this Italian favorite.
If you've never made your own meatballs before this recipe shows you just how easy this can be.
If you don't have the time for this then using store-bought is just as good. You can easily switch out the turkey mince for a meat-free version if cooking for vegans.
This recipe mixes baby arugula with the spaghetti strands, similar to rocket and other peppery greens.
However, it can be distinguished by a less intense mustard quality which adds lots of flavor to the pasta. 
Alfredo sauce is a wonderfully rich and creamy treat with the calorie content to match.
This vegan alternative is not only great for vegans but also for those who cannot eat dairy or high-cholesterol foods without sacrificing a good meal. 
Usually, alfredo sauce contains around 535 calories per 100 grams whereas the entirety of this dish contains only 318 calories per serving.
This is a huge difference in calorie intake, making it an ideal dish for anyone following a low-calorie diet. 
Dairy alternatives such as nutritional yeast, olive oil and almond milk are used to make this vegan alfredo sauce.
Gluten-free flour options such as almond or arrowroot flour can also be used for a wheat-free version. 
This is a great base dish, meaning you can add a variety of different vegetables or toppings to pack in some extra flavors and nutrients. 
Final Thoughts 
Eating a healthy balanced diet doesn't have to be difficult or boring. Making a few simple swaps can make a big difference.
Swapping out regular spaghetti for spaghetti squash is a great way to create some low-calorie, nutritious meals that can be easily adapted to suit all diets and preferences. 
The majority of these dishes use everyday kitchen cupboard ingredients and are super simple one-pan dinners.
We hope you enjoy these easy spaghetti squash recipes, let us know how you got on?